It connects the physical space and cyberspace for efficient, sustainable, and optimized energy production, distribution, and consumption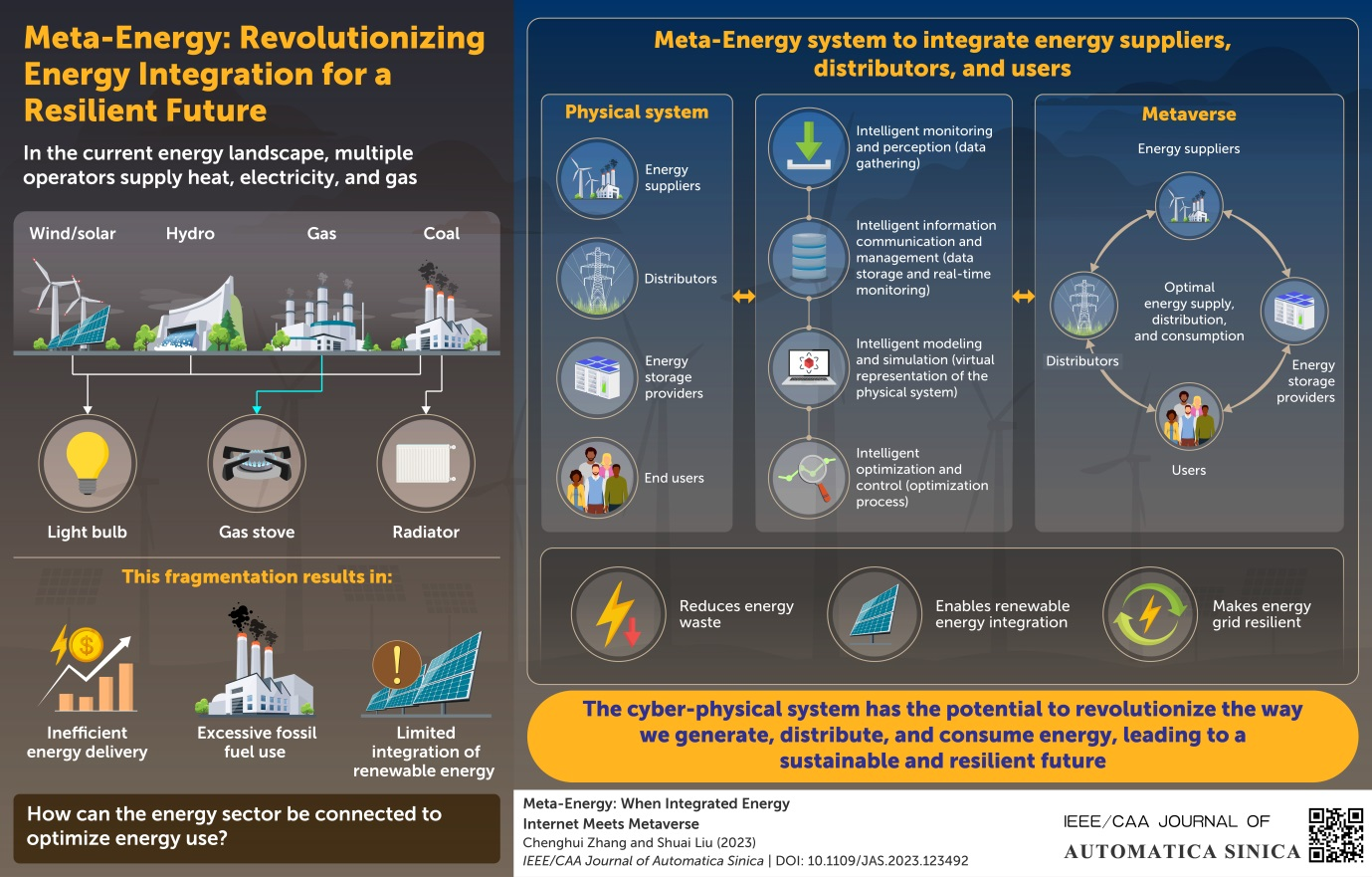 Driven by the emphasis on sustainable energy sources, ensuring efficient distribution of energy has become a global priority. However, the current energy landscape faces challenges due to fragmentation in the distribution of electricity, heat, and gas among operators. This fragmentation leads to suboptimal energy distribution and difficulties in integrating new renewable energy sources into the grid.
To address these challenges, Professor Chenghui Zhang and Professor Shuai Liu from Shandong University in China have proposed a Meta-Energy system. It aims to integrate energy production, transmission, storage, and consumption sectors. Instead of direct data sharing between various energy players, the Meta-Energy system utilizes a digital twin to realize an Integrated Energy Internet. The perspective was published in Volume 10, Issue 3 of the IEEE/CAA Journal of Automatica Sinica.
"By sharing energy supply and demand information in the metaverse, different kinds of energies can be globally and optimally allocated, reducing the waste of resources caused by information asymmetry," explains Prof. Zhang.
To bridge the physical- and cyberspace, the researchers have outlined four key components for their Meta-Energy system: intelligent monitoring and perception, intelligent information communication and management, intelligent modeling and simulation, and intelligent optimization and control.
The intelligent monitoring and perception framework facilitates real-time gathering and transfer of information from the physical system. Once the data gathering is complete, the intelligent information communication and management framework becomes important for securely storing, managing, and synchronizing the data in cyberspace. Following that, the digital twin is built by utilizing the intelligent modeling and simulation technology framework. Lastly, the intelligent optimization and control framework handles decision-making for efficient energy supply and distribution.
With these frameworks in place, the metaverse can serve as an intelligent platform where energy suppliers, distributors, and users can share information to optimize energy supply and usage.
According to Prof. Liu, "Such a system could eliminate energy shortage areas, reduce energy wastes, increase energy suppliers' profits, and improve the satisfaction of energy users."
Increased informatization and industrialization in the parallelly running real and virtual worlds call for an energy revolution in the cyberspace, and the development of Meta-Energy is a positive step in that direction.
Reference
Chenghui Zhang and Shuai Liu, "Meta-energy: When integrated energy internet meets metaverse," IEEE/CAA Journal of Automatica Sinica, vol. 10, no. 3, pp. 580–583, Mar. 2023. DOI: 10.1109/JAS.2023.123492
A Meta-Energy system to optimize energy supply, distribution, and use
About Professor Chenghui Zhang
Chenghui Zhang (Fellow, IEEE) is currently a Professor and the Dean of the School of Control Science and Engineering at Shandong University.
About Prof. Shuai Liu
Prof. Shuai Liu (Member, IEEE) has been with the School of Control Science and Engineering at Shandong University since 2017.